Tokyo story eller Tôkyô monogatari, 1953. Regi av Yasujirô Ozu, manus av Kôgo Noda och Yasujirô Ozu.
Tokyo Story
är ju en sådan riktig rackabajsare som alltid brukar komma högt på listorna över bästa filmerna genom tiderna. Den blev etta i Sight and Sounds topplista 2012 (där regisörerna röstade) och The guardian är satte den som sin nummer fyra. Så med tanke på det så känns början förvånansvärt ordinär. För på ytan händer det inte så mycket, det är två farföräldrar som besöker sina barn, och barnbarn i Tokyo, där de ska bo ett par veckor. Dom är på gott humör och barnen är artiga men man får mer och mer intrycket att barnen ser dom som ett projekt att ta hand om, ett problem som ska lösas. Deras barn har sitt livspussel och farföräldrarna försöker så mycket som möjligt att inte rubba cirklarna men hamnar ändå på något sätt i vägen. Gammelpappan(Chishu Ryu) sitter en kväll med sin kompis som klagar över att man vill träffa sina barn men att dom inte riktigt vill träffa en tillbaka, vilket känns jobbigt och förnedrande, men pappan bara nickar, han vill själv inte riktigt sätta i ord det han känner. Barnbarnen säger mest bara hej och surar, generationsklyftorna är verkligen avgrundsdjupa, alla har sitt.
Inte ens när det är själva så dissar de sina barn utan säger mer sammanfattande att "Children don't live up to their parents' expectations. Let's just be happy that they're better than most."... Den enda som verkar ha tid och vilja att vara med dom är Norika(Setsuko Haro) som är deras döda sons änka(filmen utspelar sig efter andra världskriget). Noriko ler hela tiden, hon är vänlig och empatisk och man kan bara skönja hennes depression i små subtila portioner, som då gammelmor Tomi (Chiyeko Higashiyama) verkar snappa upp och försöker få henne att försöka gifta om sig:
Tomi Hirayama
: You may be happy while you're still young. But as you become older, you'll find it lonely.
Noriko
: I won't get that old, so don't worry.
Noriko är alltid "glad"


Vafan pappa, är du full!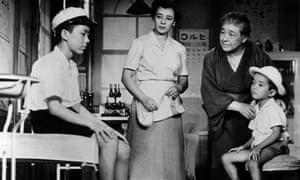 Ungarna är griniga
På väg hem blir Tomi sjuk, och dör efter en natt. Då blir det barnen så får resa till föräldrarna, dom packar med sig sorgkläder och verkar berörda och ledsna. Men efter middagen börjas det "Kyoko, did mother still have her summer sash? I'd like it for a keepsake. Is that alright with you? And that linen kimono she used to wear in summer? I want that too. You know where it is? Can you get it out?". Pappan bara sitter och kommer med små artiga nickningar och trevliga kommentarer om sommaren och våren. Strax måste barnen åka tillbaka och han är ensam någon dag med Noriko och deras ogifta dotter Kyoko som försöker bearbeta sina syskons beteende:
Kyoko: [after the rest of the family had left] I think they should have stayed a bit longer.
Noriko: But they're busy.
Kyoko: They're selfish. Demanding things and leaving like this.
Noriko: They have their own affairs.
Kyoko: But you have yours too. They're selfish.
Noriko: But Kyoko...
Kyoko: Wanting her clothes right after her death. I felt so sorry for poor mother. Even strangers would have been more considerate!
Noriko: But look Kyoko. At your age I thought so too. But children do drift away from their parents. A woman has her own life, apart from her parents, when she becomes Shige's age. She meant no harm I'm sure. They have to look after their own lives.
Kyoko: I wonder: I won't ever be like that. Then what's the point of family?
Noriko: But children become like that, gradually.
Kyoko: Then... you, too?
Noriko: I may become like that in spite of myself.
Kyoko: Isn't life disappointing?
Noriko: Yes, it is.
Och där någonstans landar det.... Stilen är klassisk Ozu med stillsamma tagningar från sitt-/knähöj. Det var faktiskt bäst att titta på filmen liggande för då hamnar kameran precis i tittarens position :) En kameraåkning var det faktiskt vilket ju var en mer än vanligt.
Det tar en stund att komma in i sådana här filmer, starten är ingen actionfest precis. Så man kan väl säga att Ozu är en acquired taste, och det gäller att man är tålmodig och fokuserad när man tittar, för de stora skeendena händer ofta ganska subtilt. Fint.